One of the most important things you can do as a homemaker, is to have a schedule or routine put in place in order to help you best manage your time. Because if you don't manage your time well, then the rest of your home will suffer because of it.
Things won't be done on time, some things won't be done at all, and you probably won't be able to focus your attention on the important things, but instead, will be focusing on what's in front of you at that moment. So, in order to maximize your time (and maximize your efforts as a homemaker) here are a few tips to keep you on track each day.
1 | Put the Important Things First
If you get up in the morning and the first thing you do is grab your phone and scroll Facebook, (no judgement here, I totally do that myself) then it's time to prioritize your time. Here are somethings that you should be putting into your largest time chunks each day:
Bible Study/Prayer Time with God.
Dedicated time with your husband (and children if you have them.) No phones, no distractions.
Weekly meetings with your husband.

If you've never done a weekly meeting then I highly suggest doing so.

Time for cooking and cleaning.

As a homemaker, apart from serving the Lord and your family, your duties mainly involve cooking and cleaning. (I know it sounds bad, but it's not too bad.) So make sure that you are serving your family by giving them a happy home atmosphere. One that is clean, inviting, and calm.
Apart from these things, nothing else is nearly as important. Not hosting others in your home, not extra curricular activities for your children, nothing. The only thing that you need to worry about other than the Lord and your family, is to take care of yourself. You cannot pour into your family from an empty cup.
2 | Block Your Time
Whether you run on a schedule and block time using hours, or you use a routine and run on parts of the day (morning, afternoon and night), blocking out your time and understanding what needs to be done when is very helpful in keeping yourself going through the day. Here's an example of how I block my day:
Routine
Morning:
Get Up/Get Ready
Bible Time
Dishes
Baking
Afternoon:
Writing (blog, books, etc)
Lunch
Dinner Prep
Evening/Nighttime:
Dinner
Time with Hubby
Reading
Bed
Schedule
7:30 am: Wake up/Shower
8:00 am: Breakfast and Bible Time
9:00 am: Daily cleaning chore/Dishes
12:00 pm: Lunch/Writing Time
4:00 pm: Dinner Prep
5:00 pm Dinner
6:00 pm: Spend time with Hubby
8:00 pm: Personal reading time
9:00 pm: Family Bible Time
10:00 pm: Bedtime
Now, for those of you "haters", yes I sleep a lot. Please note, I don't have a thyroid due to a bout with cancer two years ago. And yes, my doctor is still learning to regulate it. No, I'm not thrilled about it either. Hope that answers your question.
I personally, can work on either a routine or schedule and as you may have noticed, they are fairly interchangeable depending on what kind of structure I may need for the day. If I'm completely unmotivated and scatterbrained, then I will use my schedule for the day. If I'm feeling motivated, then I will most likely use the routine that day, as I will most likely do some deep cleaning.
3 | Most Importantly: Treat Yourself Each Day
There is no way to guarantee that your day is going to go well…bill collectors call (I hope not), children cry and scream, the unexpected happens, and so much more. Staying at home as a homemaker, these things can have a larger impact on us since we don't get to "get away" as often as others in our home. So to make sure things go smoothly (or at least that you will keep your sanity each day) it's important to do something kind to yourself each day.
Whether you choose to eat a small piece of chocolate each day, play your favorite soft music while chaos ensues, or taking an hour each day to enjoy a good book like I do, taking care of yourself is very important. As I said before, you cannot fill the cups of your family with love, if your cup is empty.
I hope these tips will help you streamline and manage your day, so that you can focus on the Lord and your family, without the stress and craziness that can come in day to day life.
Do you have any tips to add? Leave a comment below, or join the conversation on Facebook!
You can find this post at the following link-ups: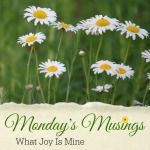 This post may or may not contain affiliate links. Click here to read our
affiliate links
disclaimer
, or our
policies
. Please note that these links do not cost any more for you to use, but do help me keep this blog up and running.