Becoming a modest woman is a very important part of my life. I find that God has called me to it, and called me to share my journey with others. If you are wondering or wanting to start a modest lifestyle here is a great place to start!! I will be leading you through a series of posts to help you understand the why's, how's and what's of modesty. We'll explore through the different types of modesty and how to start your journey and very own collection of modest clothing.

Part One:
Part Two:
Getting Materialism Out of Your Life


How to Fill Your Closet for Less

Find this post at the following link-ups: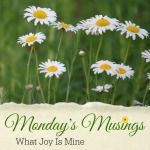 This post may or may not contain affiliate links. Click here to read our
affiliate links
disclaimer
, or our
policies
. Please note that these links do not cost any more for you to use, but do help me keep this blog up and running.